M.V.S.H-059-19
- Product Code: M.V.S.H-059-19
- Availability: Two Weeks
- Approx. Weight : 750 gms to 800 gms
Short Description
☆ Our Cat Caves are made from all natural sheep wool and are also free of harmful AZO dyes so they are safe for your cats to play, nap, rest, relax and sleep.
☆ Made of 100% New Zealand wool. Our products are environmentally friendly, sustainable, biodegradable and 100% organic.
☆ Warm, cozy and durable cat bed for your lovely cat and special touch to home decor. Our Cat Caves keep your Cats warm and cozy during winter and cool inside the cave during warm seasons.
☆ Specially designed with the thought of remarkable Christmas Gift for your loving cats,our specially made Cat Cave retains its shape and repels moisture.
✔Size:
✔ Base Diameter :- 44 cm to 45
✔ Inner Height:- 27 cm
✔ Size of the Entrance opening hole : 18 cm to 20 cm in diameter.
☆ Our Cat Caves are hand-crafted in Nepal by local artisans in our own making facility with special care and love.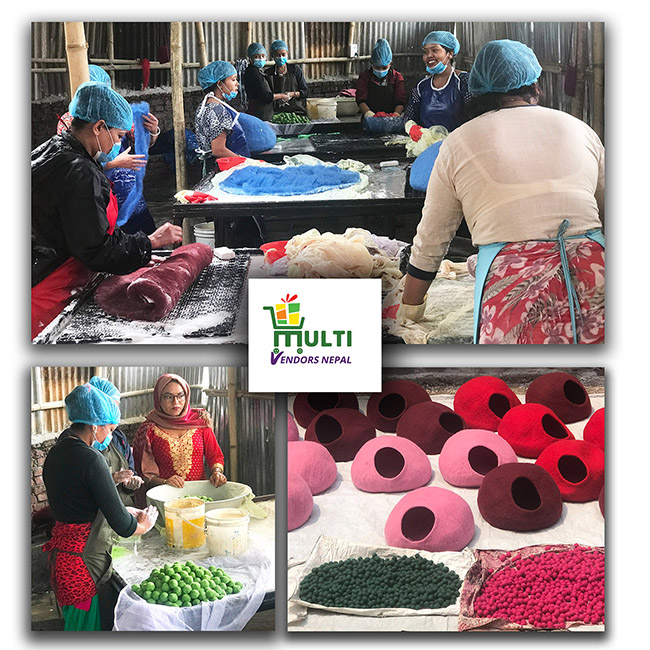 ---
✔ We can make felt Cat Caves in different sizes, shapes and in any design as per your requirement. Please contact us if you have any custom request .
✔Please refer our COLOR CHART for your selection of your special colors –