Some Unique Cat Behaviours
Some Unique Cat Behaviours :
Studies has found that many cats are mysteriously attracted to wool as cats love the scent and taste of the lanolin in the wool fibers because it reminds them of their mothers, while another is that they're attracted to it because wool itself is an animal by product..

Considering this unique behaviour of your feline our handmade Natural Wool made Cat Caves and Cat Toys would be the best alternative to pamper your cats with its unique shape and softness. Using Cat caves not only pamper your cats but also give you an opportunity to redirect your cat's sleeping location. When you provide them with a comfortable, attractive place to curl up cat caves discourage unwanted sleeping locations for cats in your home.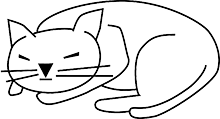 Amuse your Cats with our unique collection of Handmade Felt Wool Cat Caves and Toys :