About Cat Cave
About the product :
As the name signifies it is wool made cave specially designed to meet with cat's liking. It is a bed where cat desires to spend night inside in the cave. Cat cave is made of 100% wool imported from New Zealand and is made by hand.
Good Margin on Sales and the buying process with us :
Basically in the European market the retail price of Cat Caves similar to our products are found to be sold between Euro 40 to Euro 55. As about our selling price of our Cat Caves to our business customers we are offering at USD 14 FOB Nepal with a minimum order quantity of 10 pieces .The freight cost by Air Cargo to the buyers location will be extra and that comes around $ 3.75 per piece to $ 6.50 per piece depending upon the shipment quantity. Further there will be no custom duty applicable in Europe as goods from Nepal comes under the GSP facility provided by the European Union countries.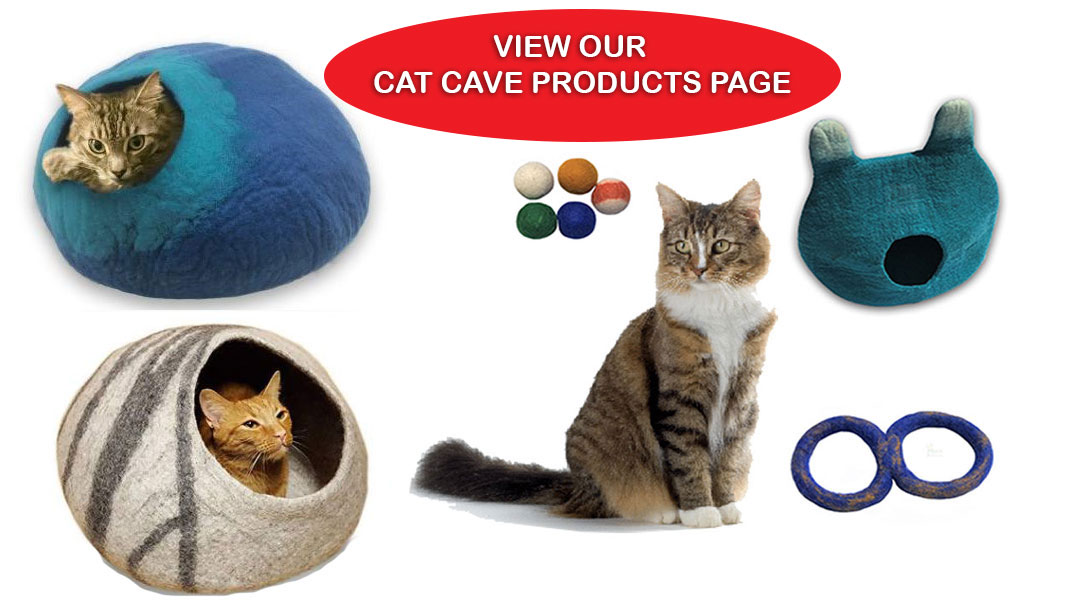 Benefits to Cats and the owners :
• Cats love climbing and exploring inside everything from boxes to baskets especially in dark, warm, and soft places. In fact some study over Animal behaviour has indicated that hiding is a box or cave like places reduces cat's stress level and Cat caves would be more cozy alternative to pamper your cats.
• Cat cave's natural wool fibre works like a thermostat as it warms when the temperature drops, as well as cool when the mercury rises. After wool traps moisture, it starts producing heat – making it perfect for chilly, damp nights. Especially if you have an older cat that's sensitive to the cold, a wool cat cave is an ideal bed to keep them warm.
• Using Cat caves give you an opportunity to redirect your cat's sleeping location. When you provide them with a comfortable, attractive place to curl up cat caves discourage unwanted sleeping locations for cats in your home.
• Many cats are mysteriously attracted to wool as cats love the scent and taste of the lanolin in the wool fibers because it reminds them of their mothers, while another is that they're attracted to it because wool itself is an animal by product.
• Our Cat caves are easy to clean Even if your wool cat cave gets wet, it will still feel dry to the touch until you can address the mess. Wool cat caves will catch your cat's hair – a huge help if they're an excessive shedder, but that hair will stay on the surface of the wool rather than becoming entangled in its fibers. When it's time to clean your cat cave, simply vacuuming it and wiping it down with a damp cloth should be sufficient to remove most of the hair and debris. .
About The Making Process of our Cat Caves:
The manufacturing process needs an expertise to handle the wool. The wool is soaked in water and is ringed continuously inside the water to make it flat to the thickness to make the cat cave wall. Several colours of wool are used in the same way and to mix together to make a cat cave in the desired colour. The cat cave has to be fully dried in sun. Generally cat caves are made of three sizes good for small kitten, middle size cat and fully grown cat. The largest size is having a base of 45 cm and this is the one we make as it fits all size of cats. We maintain a thick walled cat cave as it does not collapse towards inside.

Our Cat caves and other felt products are made by skilled craftswomen basically from rural areas of Nepal with minimum education level .First we our self trained them in our factory to develop their skills to be an Artisan and later we engage them in our regular production .They work in their free time during the day hours when they are fee from their household works and their children are in their school..